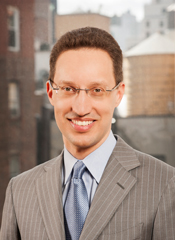 Keith Goggin
Keith Goggin spent 22 years as a market maker and specialist on the New York Stock Exchange and the American Stock Exchange prior to his retirement in 2018.  He served as the Managing Member of STR Trading Partners, a founder and the Managing Member of STR Specialists, and a founding member of Integral Derivatives.  Prior to his trading career, he worked in the Derivative Securities division of the American Stock Exchange.  Among his roles at the AmEx, Mr. Goggin was the research manager for the Exchange's Derivative Securities division and was involved in the Exchange's efforts to establish and grow the market for Exchange Traded Funds (ETFs), a market which now claims over $5 trillion in assets under management industry wide.  He began his career as a financial reporter and served as the Managing Editor of The IPO Reporter at Investment Dealers Digest before moving into finance.
Mr. Goggin has served in multiple alumni volunteer roles at Columbia dating back to 1992, when he first joined the Alumni Executive Committee at the Journalism School.  He currently serves on the Journalism School's Board of Visitors and as co-chair of the Journalism School's capital campaign.   He also serves on and is a past Chair of the Columbia Alumni Association where he has, at various times, co-chaired the 2023 Strategic Planning Task Force and the Strategic Planning Committee, and chaired the Honors & Prizes Committee and where he currently chairs the CAA Scholarship Committee.  He serves on the Board of Governors and the Executive Committee of the Columbia University Club of New York, the Board of Columbia Global Reports, the Columbia Climate Board of Advisors, the President's Council for Columbia World Projects and the Campaign Executive Committee for the Columbia Commitment.  Mr. Goggin previously served as a University Senator, as co-chair of the Senate Alumni Relations Committee, and on the Alumni Trustee Nominating Committee.
Mr. Goggin received a B.A. in Economics from Colgate University and an M.S. in Journalism from The Columbia University Graduate School of Journalism.  He was a 2013 recipient of the University's Alumni Medal and the 2016 recipient of the Journalism School's Founder's Award.  Mr. Goggin currently serves on the board of The War Horse.
Education
Colgate University, B.A., 1990
Columbia University Graduate School of Journalism, M.S., 1991